NEWS:
My brother Dr. Paul and I have been having awesome video conversations about the parallels in his work as a sports performance psychologist and my career in theater.
💡Light Bulbs are going off!💡
After only a few chats, I started seeing a change in how I live my day-to-day life as a freelance actor, director and teacher. I think I can confidently say that Paul is learning some "lessons from the stage" as well.
Check out the Introductory video below and give us a "like" and "subscribe" for fun conversations about motivation, mindfulness, focused attention, deep practice, showing up in a one-of-a-kind way, learning to love risk…and oh so much more.
#pathwaystomagic #mentorship #standup #showup #actingmatters #volition #risk #will #mindfulness #fullheart #deeppractice
**********
About Paul:
Paul T. Haefner, Ph.D. is a licensed clinical psychologist in private practice in Northern Virginia with over thirty years of professional experience. In addition to his experience in psychotherapy, he is a clinical hypnotherapist and a Neurolinguistic Programming (NLP) master practitioner. He has extensive experience working with children, teens, adults, and families and finds great joy helping people create meaningful change in their lives and achieve their personal goals. In 1998 Paul turned the focus of his work to sport and performance psychology, leading to him to found Riding Far, LLC, providing a wide range of sport psychology consultation services to equestrians. Over the last 20 years, in his role as a sport and performance psychologist, Dr. Haefner has worked with a wide array of athletes and performing artists. He regularly presents seminars and workshops focused on overcoming obstacles to peak performance. https://ridingfar.com/
RECENT: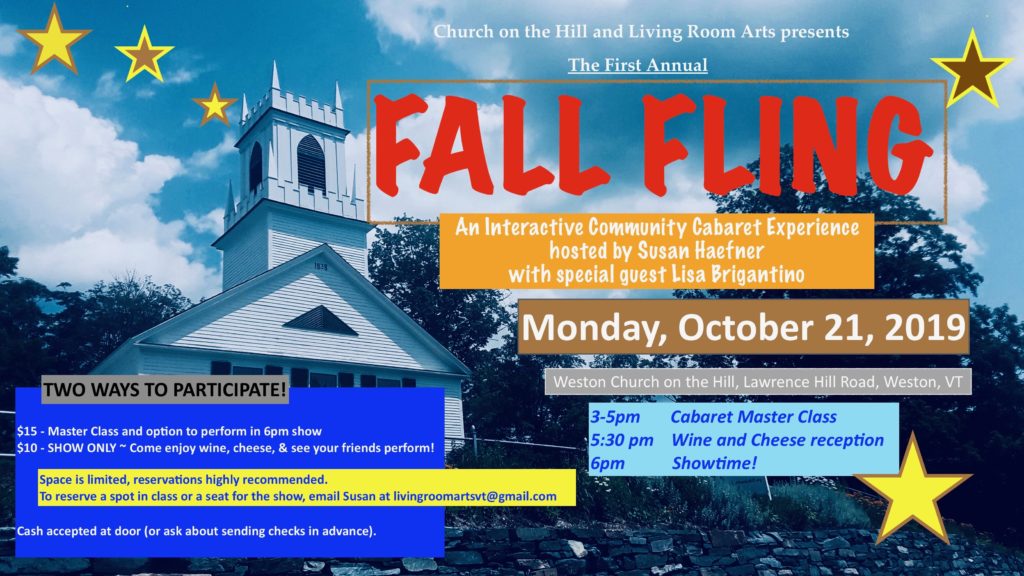 FALL FLING! Interactive Community Cabaret Experience, Monday October 21, 2019.
Church on the Hill and Living Room Arts present
The First Annual Fall Fling, an Interactive Cabaret Experience
hosted by Susan Haefner, with special guest Lisa Brigantino on Monday, October 21, 2019 at the
Weston Community Church on the Hill,
Lawrence Hill Road, Weston, VT.
Susan Haefner
has been entertaining Vermont and New Hampshire audiences for many years, and is a big fan of cabarets, both as a performer and a director. "There is nothing quite like getting a group of folks together to laugh, sing, and get goofy. I can't think of a better way to spend a Monday," says Haefner. Special guest
Lisa Brigantino
is a New York City based multi-instrumentalist and composer and will be helping out with music direction and accompaniment.
The day will begin with a Cabaret Master Class from 3pm 'til 5pm. Then there is a wine & cheese reception at 5:30pm and finally, showtime at 6pm. All ages are welcome.
There are two ways to participate. You can attend both the master class and show (class participants will be invited to perform part or all of what they worked on in class) for $15, or you can just come for the reception and show for $10 – have some wine and cheese, and then watch your friends ham it up!
Please note – space is limited. To reserve a spot in class or a seat to the show, please email
livingroomartsvt@gmail.com
by October 18, 2019.
If you would like to purchase tickets in advance, please send a check made payable to "Weston Community Church on the Hill" to the following address: Weston Community Church on the Hill, Att: Fall Fling, P.O. Box 105, Weston, Vt. 05161. You can also pay at the door with cash or check.