Little Shop of Horrors at Playhouse on Park – only 5 shows left! Come visit!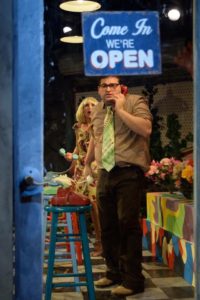 PRODUCTION TEAM
Dir/Choreo: Susan Haefner
Music Director: Penny Brandt
PSM: Corin Killins
ASM: Gemma Maliszewski
Set Design: Brian Dudkiewicz
Lighting Design: Chris Bell
Costume Design: Kate Bunce
Sound Design: Joel Abbott
Sound Engineer: Rider Stanton
Props: Pam Lang
BAND
Guitar: Nick Cutroneo
Bass: Sean Rubin
Drums: Michael Blancaflor
CAST (in no particular order)
Audrey: Emily Kron
Seymour: Steven Michael Mooney
Mushnik: Damian Buzzerio
Orin (and lots of others): Aidan Eastwood
Chiffon: Brandi Porter
Ronette: Famecia Ward
Crystal: Cherise Clarke
Audrey II (Voice): Rasheem Ford
Audrey II (Manipulation): Susan Slotoroff
Director's Notes for the program:
"Annihilating all that's made
To a green thought in a green shade"
-Andrew Marvell
"Among fish, the dory, they say, screams when it is seized upon
by man; among insects, the caterpillar of the death's-head moth
is capable of a still, small shriek of terror; in the vegetable world,
only the mandrake could voice its agony — till now."
–Green Thoughts, by John Collier
"It's all about the Plant."
– Little Shop of Horrors design team, Playhouse on Park
One of my favorite things to do in life is get a bunch of talented and nutty people in a room and make some meaningful and (hopefully) hilarious theatre. Returning to Playhouse on Park every year – this time to work on Little Shop of Horrors – has given me the opportunity to do just that.
We started off messy…I encouraged the actors to throw any and all ideas into the ring – playing off each other – collectively working to bring Howard Ashman's smart script and Alan Menken's delicious score to life. The acting ensemble bonded in just a few short days, and it very quickly became hard to tell whose good idea was whose. The process took on a life of its own (oddly much like Audrey II) – and you could almost literally see a flow of great and colorful (green??) energy emanating from the group. Such a joy to witness!
My hope is that you as audiences will also experience this joy – laugh and dream and be scared with us, feel the power of some incredible music, and maybe take away some food for thought…perhaps ask yourself, "Would I have done what Seymour did?"